Answer
Answer
The lateral intercostal block technique described by Bonica is performed 3-4 cm posterior to the midaxillary line where the lateral cutaneous nerve pierces the intracostal muscles and divides into anterior and posterior branches. The anterior branch supplies skin and subcutaneous tissues of the anterolateral chest and abdominal wall as far as 7 cm from the midline; the posterior branch supplies tissues as far as 7-10 cm from the spine. A block at this site is unlikely to diffuse to the paravertebral region and therefore is preferable to differentiate thoracic and abdominal visceral pain from somatic pain caused by disorders of the chest and abdominal wall. See the image below.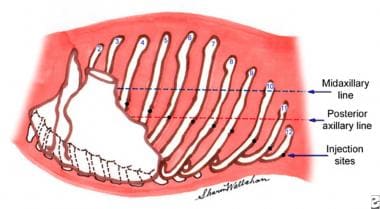 Lateral intercostal block along the posterior axillary line.
Intercostal block at this site produces less ventilatory impairment than blocks at other sites; therefore, it is often considered preferable for patients with pulmonary disorders. Because a block at this site does not relieve postoperative pain from the viscera, however, supplementary pharmacologic analgesia may be necessary.
---
Did this answer your question?
Additional feedback? (Optional)
Thank you for your feedback!