Answer
Answer
Mid-thoracic paramedian epidural spinal blocks may be carried out in the sitting, lateral, or prone position, with the sitting position being favored for simplicity of patient positioning when compared with lateral position. [19] The prone position should be avoided because it makes patient monitoring more difficult. After the patient is placed in optimal sitting position with the thoracic spine flexed and forehead placed on a padded bedside table, the skin is prepared with an antiseptic solution. See image below.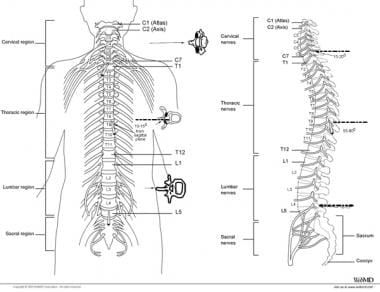 Typical placements for cervical, thoracic, and lumbar interlaminar epidural steroid injections.
By exerting constant pressure on the plunger of the syringe with the right hand, the needle is slowly advanced with the left hand until lack of resistance is discerned. When this occurs, the needle has passed through the costotransverse ligament into the paravertebral region and the needle tip is likely to be in near proximity to the targeted nerve root. If paresthesia is not elicited, a peripheral nerve stimulator can be used to ensure that the bevel of the needle is positioned adjacent to the nerve. For diagnostic purposes, 3 mL of 1% lidocaine or 0.25% bupivacaine can be injected.
For treatment of acute severe pain, 5 mL of 0.375-0.5% bupivacaine with epinephrine is commonly used. Production of a prolonged continuous block covering multiple levels involves a larger injectate of 10-15 mL of 0.375-0.5% bupivacaine with epinephrine through a fixed catheter. Possible complications include accidental subarachnoid or epidural injection, intravascular injection, and pneumothorax. [19, 20, 21]
---
Did this answer your question?
Additional feedback? (Optional)
Thank you for your feedback!