Answer
Answer
Nerves emanating from the spinal cord can be blocked in the paravertebral region or at certain points along their course. These procedures usually are performed for management of severe acute or chronic pain affecting the trunk or extremities, to relieve painful muscle spasm, or to block sympathetic nervous system dysfunction in affected limbs. Each cervical nerve root can be blocked paravertebrally by approaching the nerve in a lateral or posterior direction as it lies within the shallow sulcus of the transverse process. The posterior approach is technically more difficult but may be necessary in patients with contraindications due to skin infection, carcinoma, or other pathological processes in the lateral structures of the neck. Furthermore, neural blockade of the C8 nerve root can be achieved only from a posterior approach by slowly passing the needle caudally and slightly medially over the transverse process of C7, until the patient reports paresthesia in the C8 distribution. See the image below.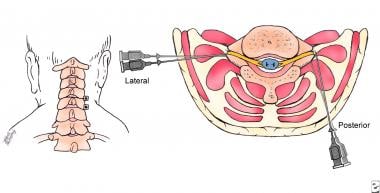 Paravertebral block technique (posterior approach). See text for details.
---
Did this answer your question?
Additional feedback? (Optional)
Thank you for your feedback!