Answer
Answer
A glossopharyngeal block can be carried out intra-orally or using a peristyloid technique. If the block is performed intra-orally, the patient must be capable of opening the mouth, and adequate topical anesthesia of the tongue is necessary to allow needle placement at the base of the tonsillar pillar. While using this approach, care must be taken because of the proximity of the glossopharyngeal nerve to the internal carotid artery, which lies immediately lateral to the tip of the correctly positioned needle. See the image below.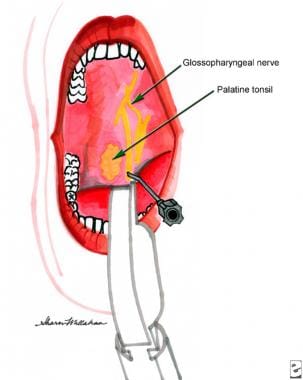 Intraoral anatomy and glossopharyngeal block technique. See text for details.
The peristyloid approach, also described by Brown, begins with the patient in a supine position with the head neutral. See the image below.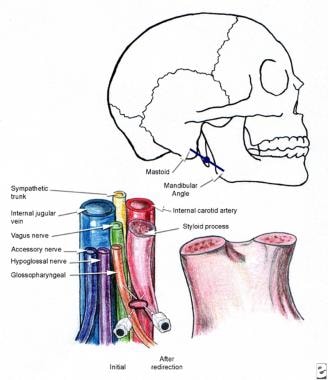 Glossopharyngeal block, peristyloid technique.
A 22-gauge needle is inserted at the midpoint of a line between the mastoid process and angle of the mandible and advanced until it reaches the styloid process. Palpation of the styloid process should be maintained while the needle is inserted until it reaches this structure. The needle is then pulled back and redirected to slip off the posterior border of the styloid process. Careful aspiration for blood is necessary because of the intimate relationship of both the internal jugular vein and carotid artery to the glossopharyngeal nerve.
Other blocks, including cervical plexus, superior laryngeal, translaryngeal, and retrobulbar blocks, are usually best performed by anesthesiologists or surgical subspecialists. These blocks are usually performed to achieve regional anesthesia, although a retrobulbar block can be useful diagnostically for determining the etiology of eye pain.
---
Did this answer your question?
Additional feedback? (Optional)
Thank you for your feedback!