Answer
Answer
Maxillary nerve blockade also can be useful for diagnosis and treatment of facial neuralgia. The maxillary nerve is entirely sensory and exits through the foramen rotundum. Using the technique described by Brown, the patient is placed in supine position with the head and neck rotated away from the side to be blocked. See the images below.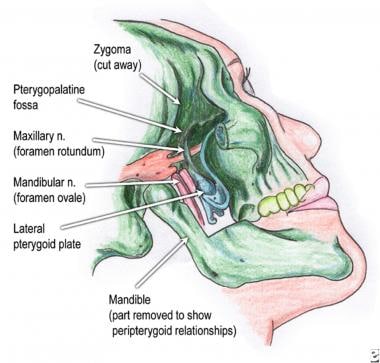 Pertinent anatomy with regard to the maxillary block.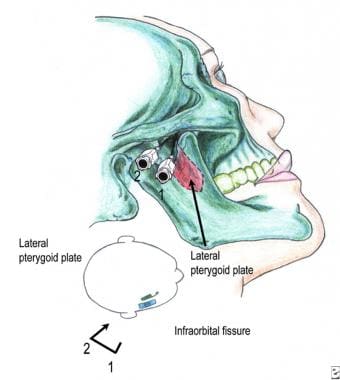 Anatomy of maxillary block. See text for details.
A 22-gauge, 8-cm needle is inserted through the mandibular notch and advanced in a medial and cephalad direction until it meets the lateral pterygoid plate at a depth of approximately 5 cm.
The needle is then withdrawn and redirected in a stepwise manner by walking the bevel off the pterygoid plate, to a depth 1 cm beyond initial contact, until it lies within the pterygopalatine fossa. Once the needle rests in a satisfactory position, 5 mL of LA is injected. Because of the maxillary nerve's proximity to the infraorbital fissure, LA may spill into the orbit and affect eye movement or vision. Because the vascularity of this region is rich, hematoma formation is a possible complication; some subjects may develop a black eye following this block, again because of the close proximity of the orbit.
---
Did this answer your question?
Additional feedback? (Optional)
Thank you for your feedback!