Answer
Answer
Occipital nerve block can be applied for diagnostic, prognostic, and therapeutic purposes in patients with headache, neuralgia, and other painful conditions of the posterior aspect of the head. Using the technique described by Bonica, the greater occipital nerve is blocked by needle placement just above the superior nuchal line and approximately 2.5-3 cm lateral to the external occipital protuberance. If reaching the nerve and eliciting paresthesia are difficult, then 5 mL of LA can be injected on the medial side of the artery, 2 mm superficial to the skull. Frequently, care must be taken during this block not to allow anesthetic fluid to spread laterally, as it may affect the glossopharyngeal nerve, causing hoarseness and difficulty in swallowing. See the image below.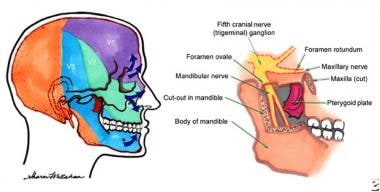 Anatomy of the fifth cranial nerve ganglion (trigeminal) along with innervation and peripterygoid relationship.
---
Did this answer your question?
Additional feedback? (Optional)
Thank you for your feedback!