Answer
Answer
A lateral femoral cutaneous nerve block confirms the presumptive diagnosis of lateral femoral cutaneous neuralgia or meralgia paresthetica and may provide symptomatic relief. Using the technique described by Bonica, a 5-cm, 22- or 25-gauge, short-bevel needle is introduced through a skin wheal of 1% lidocaine that is 1.5 cm caudal to the anterosuperior iliac spine just below the inguinal ligament at an angle of approximately 60° to the skin. See the image below.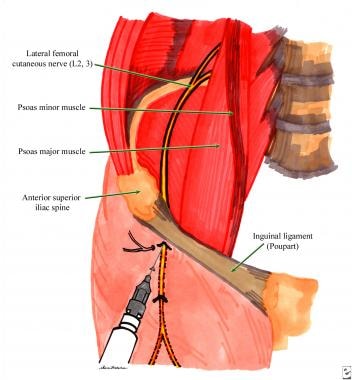 Lateral femoral cutaneous nerve block technique. See text for details.
Usually a volume of 5-8 mL of LA is required; addition of corticosteroids may produce therapeutic relief for meralgia paresthetica. Oral medications (tricyclic antidepressants or anticonvulsants) can be added for improved pain relief.
---
Did this answer your question?
Additional feedback? (Optional)
Thank you for your feedback!