Answer
Answer
Using the technique described by Bonica, this procedure is performed with the patient in a supine position. The midpoint of a line joining the anterosuperior iliac spine and pubic tubercle usually overlies the femoral artery. A short-acting LA is used to raise a skin wheal approximately 1 cm lateral to the junction of the femoral artery in the inguinal ligament. See the images below.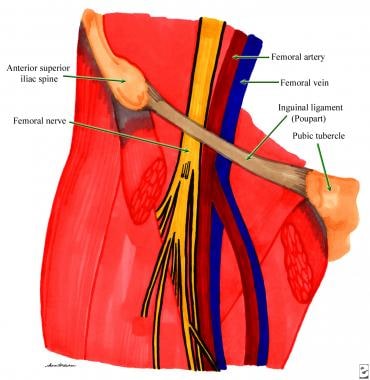 Anatomical relationship of the femoral nerve, artery, and vein.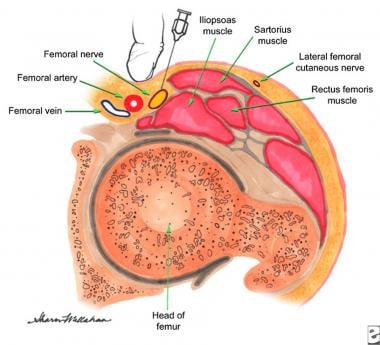 Femoral nerve block technique (cross-sectional view). See text for details.
While palpating the artery under the second finger of the left hand, a 5-cm, 22-gauge or 25-gauge, short-beveled needle is introduced with the right hand through the skin wheal and is perpendicularly advanced through the skin until paresthesia is elicited in the distribution of the femoral nerve, preferably by using an electrical nerve stimulator or ultrasound for guidance. Usually 8-10 mL of 1% lidocaine with epinephrine produces analgesia for 3-4 hours, whereas the same volume of 0.25% bupivacaine with epinephrine produces analgesia for 6-8 hours. If longer analgesia is required, the concentration of bupivacaine can be increased to 0.5% with epinephrine or a continuous block can be applied by placing an infusion catheter at the site.
---
Did this answer your question?
Additional feedback? (Optional)
Thank you for your feedback!