Answer
Answer
To perform a suprascapular nerve block, the practitioner locates the suprascapular notch by first forming 2 bisecting lines—one extending along the spine of the scapula and another that bisects this line and extends to the inferior angle of the scapula.
Using the technique advocated by Bonica, an 8-cm, 22-gauge needle is introduced through a skin wheal of LA placed in the outer triangle about 1.5 cm from the bisection point. The shaft of the needle is directed anteriorly, caudally, and medially into the supraspinatus fossa just lateral to the suprascapular notch. The needle is withdrawn until its point lies within the subcutaneous tissue and then re-introduced to a point that is approximately 5 mm medial to the first contact. The needle should enter the notch; contact with the nerve is verified if paresthesia is evoked. If no paresthesia is elicited, sequential insertions may be necessary, or location of the nerve can be facilitated by electrical nerve stimulation.
Bupivacaine (3-5 mL) or other long-acting LA, in addition to a short-acting LA, should provide an adequate block for diagnostic purposes, and thereafter, allow appropriate physical therapy intervention.
See the images below.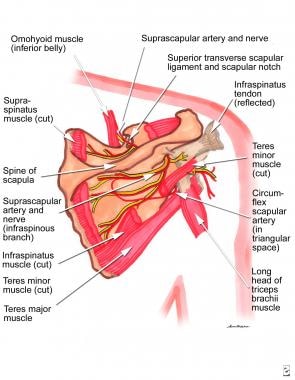 Anatomy of the suprascapular nerve and parascapular structures.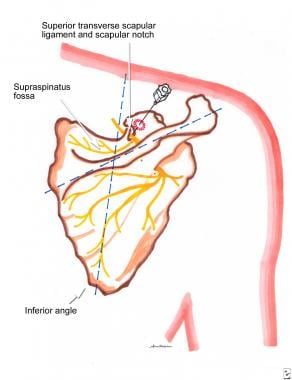 Suprascapular nerve block technique. See text for details.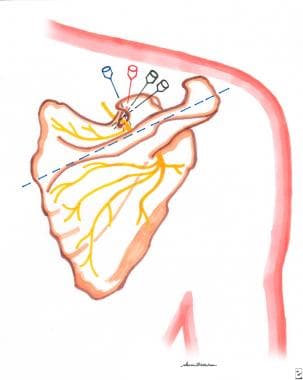 Suprascapular nerve block technique. See text for details.
---
Did this answer your question?
Additional feedback? (Optional)
Thank you for your feedback!