Answer
Answer
This article focuses on the use of therapeutic injections (see the image below) to treat acute and chronic pain syndromes. Discussion of this topic begins with an overview of regional anesthesia, which includes the pharmacology of frequently administered medications and basic information regarding equipment and safety. The spectrum of injection procedures and their indications for specific pain disorders and pathoanatomic regions is addressed to include therapeutic options for the various tissues or structures characteristic of each area or syndrome.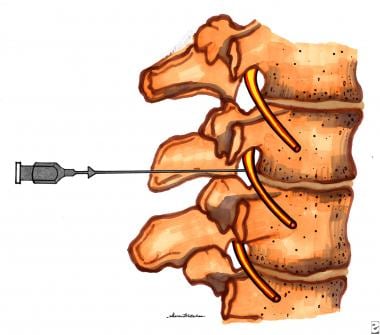 Lateral view showing needle position of lumbar paravertebral somatic block technique.
See Pain Management: Concepts, Evaluation, and Therapeutic Options, a Critical Images slideshow, to help assess pain and establish efficacious treatment plans.
---
Did this answer your question?
Additional feedback? (Optional)
Thank you for your feedback!