Answer
Herpes zoster (HZ) is a viral infection that usually presents as a childhood infection of varicella (ie, chicken pox). The pathogen is human herpesvirus-3 (HHV-3), also known as the varicella zoster virus (VZV). Following the acute phase, the virus enters the sensory nervous system, where it is harbored in the geniculate, trigeminal, or dorsal root ganglia and remains dormant for many years. With advancing age or immunocompromised states, the virus reactivates and an eruption (ie, shingles) occurs. Even after the acute rash subsides, pain can persist or recur in shingles-affected areas. This condition is known as postherpetic neuralgia (PHN).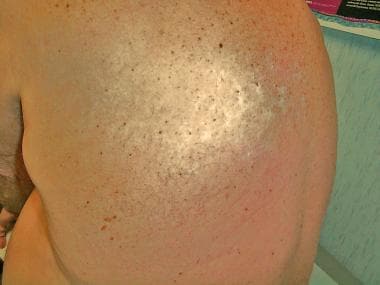 Hypopigmented rash in thoracic dermatome of postherpetic lesion.
---
Did this answer your question?
Additional feedback? (Optional)
Thank you for your feedback!