Answer
Answer
Adequate grounding on the patient has almost eliminated this type of artifact from power lines. The problem arises when the impedance of one of the active electrodes becomes significantly large between the electrodes and the ground of the amplifier. In this situation, the ground becomes an active electrode that, depending on its location, produces the 60-Hz artifact (see image below). The artifact presents at exact frequency (60 Hz, as its name indicates). A better identification can be made by increasing the paper speed (ie, sweep time) to 60 mm/s and counting it (1 cycle per millimeter).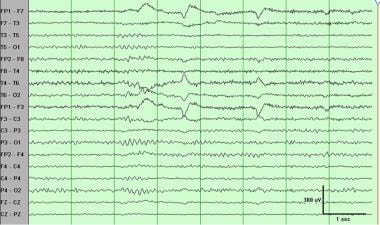 Ground recording artifact. This is a somewhat less common electrode artifact, also related to accidentally high impedance. The high impedance at posterior temporal electrode T6 results in this electrode recording from the ground on the forehead, thus picking up eye movements (which normally should not be observed at T6).
---
Did this answer your question?
Additional feedback? (Optional)
Thank you for your feedback!