Answer
Answer
Biological processes and/or defects may alter impedance and cause artifacts. Sweat is a common cause. Sodium chloride and lactic acid from sweating reacting with metals of the electrodes may produce huge slow baseline sways.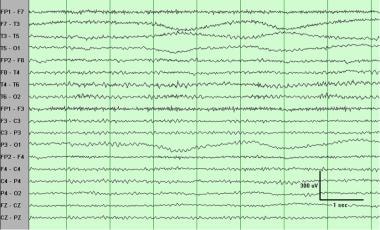 Sweat artifact. This is characterized by very low-frequency (here, 0.25- to 0.5-Hz) oscillations. The distribution here (midtemporal electrode T3 and occipital electrode O1) suggests sweat on the left side. Note that morphology and frequency are also consistent with slow rolling eye movements, but distribution is not.
Significant asymmetry also can be observed when a collection (eg, subgaleal hematoma) is under or in the skin. In this last example, the amplitude of the background rhythm is reduced in derivations from electrodes overlying the hematoma.
Skull defects also can be the source of asymmetry. In this situation, amplitudes are greater in derivations from electrodes overlying or adjacent to skull defects.
---
Did this answer your question?
Additional feedback? (Optional)
Thank you for your feedback!