Answer
Answer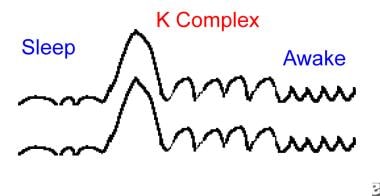 Example of a K complex.
See the list below:
K complex waves are large-amplitude delta frequency waves, sometimes with a sharp apex.

They can occur throughout the brain and usually are higher in amplitude and more prominent in the bifrontal regions.

Usually symmetric, they occur each time the patient is aroused partially from sleep.

Semiarousal often follows brief noises; with longer sounds, repeated K complexes can occur.

K complexes sometimes are followed by runs of generalized rhythmic theta waves; the whole complex is termed an arousal burst.
---
Did this answer your question?
Additional feedback? (Optional)
Thank you for your feedback!