Answer
Answer
The electroencephalogram (EEG) is the depiction of the electrical activity occurring at the surface of the brain. This activity appears on the screen of the EEG machine as waveforms of varying frequency and amplitude measured in voltage (specifically microvoltages).
EEG waveforms are generally classified according to their frequency, amplitude, and shape, as well as the sites on the scalp at which they are recorded. The most familiar classification uses EEG waveform frequency (eg, alpha, beta, theta, and delta). [1, 2, 3]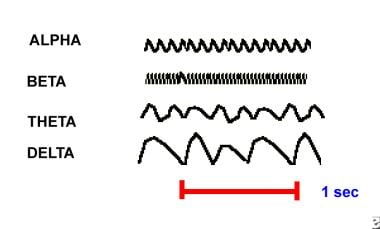 Examples of alpha, beta, theta, and delta electroencephalography frequencies.
Information about waveform frequency and shape is combined with the age of the patient, state of alertness or sleep, and location on the scalp to determine significance.
---
Did this answer your question?
Additional feedback? (Optional)
Thank you for your feedback!