Answer
Answer
Magnetic stimulation studies can address specifically the issue of cortical reorganization by using mapping procedures that employ focal stimulations with "figure-of-8" coils.
Single pulses are used to sequentially stimulate successive positions over the scalp, usually 1cm apart. The intensities or latencies of responses then can be plotted on a 2-dimensional (2-D) map, which is obtained in reference to the vertex or other anatomical landmarks. A refined technique, which uses frameless stereotactic localization of the stimulating coil and of the subject's head, allows the researcher to project the TMS maps directly onto 3-D brain reconstruction images. (See the image below.)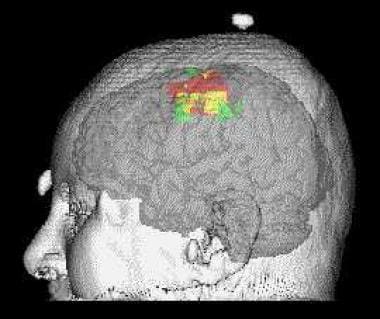 Example of a motor map obtained by transcranial magnetic stimulation (TMS), using a stereotactic technique. The TMS map is represented in red. It is compared with a map obtained with functional magnetic resonance imaging (MRI), in green. The overlap of the TMS and functional MRI maps is represented in yellow. The TMS and functional MRI mapping techniques can provide complementary information on motor control.
TMS mapping has been used successfully in studying the changes of cortical sensorimotor maps in response to experimental injury to the PNS or central nervous system (CNS).
TMS mapping provided evidence that changes in cortical motor maps may, in some situations, occur rapidly (ie, during motor learning in healthy volunteers) or much more slowly (eg, after peripheral nerve transposition).
Stereotactic TMS mapping can be coregistered to functional MRI scan, positron emission tomography (PET) scan, or electroencephalogram (EEG) for various assessments of brain function.
---
Did this answer your question?
Additional feedback? (Optional)
Thank you for your feedback!