Answer
Answer
Interhemispheric inhibition can be demonstrated in humans by studying the transcallosal effects of magnetic stimulation on motor cortical excitability (see the image below). Two stimulating coils are positioned at the optimal positions ("hot spots") on both hemispheres. A conditioning stimulus is performed to activate one hemisphere with a preset delay before a test stimulation is administered over the other hemisphere.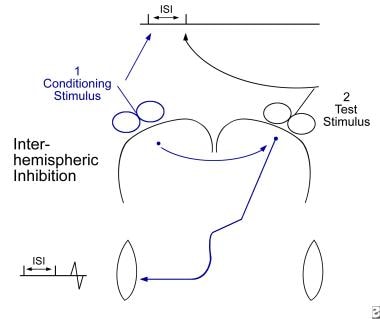 Interhemispheric conditioning study. A conditioning stimulus (1) is given over the contralateral hemisphere a short delay prior to a test stimulus (2) over the target hemisphere. The conditioning effect is evaluated by comparing conditioned responses to baseline responses that are obtained without a conditioning stimulus. This allows measurement of transcallosal inhibition or excitation.
Previous studies have suggested that in right-handed individuals, the inhibition after stimulation of the "dominant" hemisphere was more marked than after stimulation of the "nondominant hemisphere."
Interhemispheric inhibition appears to be decreased significantly in patients with an abnormality of the anterior part of the corpus callosum.
---
Did this answer your question?
Additional feedback? (Optional)
Thank you for your feedback!