Answer
Answer
Intracortical inhibition (ICI) or facilitation (ICF) defines the inhibitory or facilitatory action between areas of the motor strip itself or between cortical areas of the same hemisphere.
ICI and ICF can be elicited by using a double-pulse (DP) technique with focal stimulations (see the image below). With intervals of between 1 and 5 milliseconds, DP studies test the influence of short-range inhibitory GABA (gamma aminobutyric acid)-ergic interneurons. With intervals of between 7 and 30 milliseconds, DP studies measure the influence of short-range excitatory interneurons.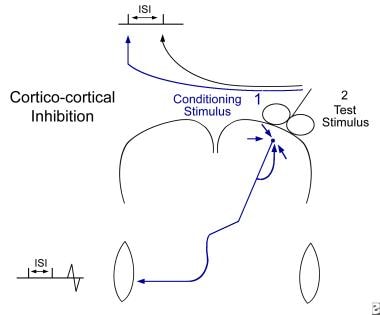 Double-pulse study. Using a common single coil, a conditioning stimulus (1) is given over the target hemisphere a short delay prior to a test stimulus (2) over the same location. The conditioning effect is evaluated by comparing conditioned responses to baseline responses that are obtained without a conditioning stimulus. This allows measurement of intracortical inhibition and facilitation.
DP studies have been useful in evaluating the effect of rTMS on cortical excitability in several neurologic diseases.
---
Did this answer your question?
Additional feedback? (Optional)
Thank you for your feedback!