Answer
Answer
Anoxic encephalopathy
Hypoxia causes diffuse slowing on the electroencephalogram (EEG). The acute and prolonged anoxia of cardiac arrest exhibits no changes initially. In 7-10 seconds, slow waves appear. This is followed by rhythmic, high-voltage delta activity; subsequently, attenuation and EEG flattening occurs. As a rule, irreversible brain damage results in 4-8 minutes.
In some cases, establishing the completeness and duration of anoxia is difficult. Certain patterns carry a poor outcome: flat EEG, burst-suppression patterns, and burst suppression patterns with epileptiform discharges (see the image below) nearly always carry a poor prognosis. Postanoxic EEGs may exhibit a variety of abnormal patterns: triphasic activity, alpha coma pattern, repetitive complexes, and bilateral PLEDs. [59]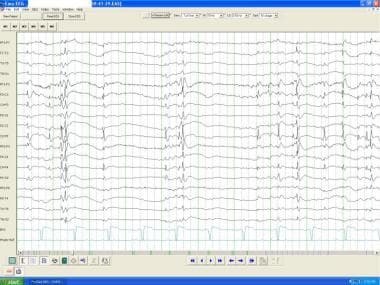 Anoxic encephalopathy. Burst suppression pattern with bursts of spike and wave and polyspike wave discharges with voltage suppression.
Takahashi et al reported a 47-year-old man admitted to the hospital for depression, who suddenly developed cardiopulmonary arrest of unknown etiology and entered a chronic vegetative state as a result of anoxic encephalopathy. Periodic synchronous discharges (PSDs) were present for as long as 5 months. The wave pattern, periodicity, and duration of appearance of PSDs were similar to those of PSDs seen in Creutzfeldt-Jakob disease (CJD). The PSDs were prolonged gradually, with a course similar to that of the discharges observed in CJD. The mechanism of occurrence is considered to be similar to that of PSDs in CJD. [60]
Fernandez-Torre et al described the clinical and electroencephalographic features of a comatose patient with severe anoxic encephalopathy who experienced acute reflex myoclonus precipitated by passive eye opening/closure and painful stimulation. Acute stimulus-sensitive postanoxic myoclonus is an underdiagnosed epileptic condition. Shortly after the anoxic insult, the diagnosis should be based on EEG evaluation and various types of stimulation. These should include passive eye opening/closure and painful stimuli. [61]
---
Did this answer your question?
Additional feedback? (Optional)
Thank you for your feedback!