Answer
Answer
Viral encephalitis frequently causes EEG abnormalities. If the cortical gray-matter involvement is predominant, more polymorphic delta activity is observed, while with subcortical involvement, a rhythmic pattern (IRDA) is more common. In herpes simplex encephalitis (HSE; see the first image below), temporal intermittent rhythmic delta slowing (TIRDA; see the second image below), nonrhythmic temporal slowing, and frontotemporal slowing are characteristic; a periodic pattern may develop as the disease evolves.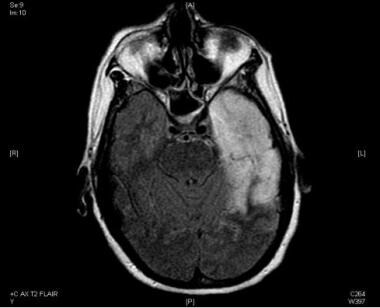 MRI axial FLAIR with gadolinium; herpes encephalitis, left temporal.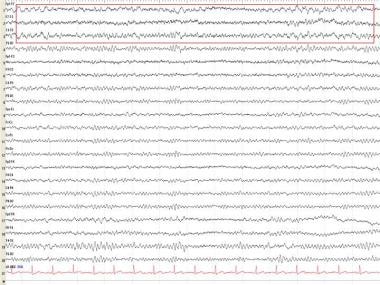 Left temporal intermittent rhythmic delta (TIRDA).
Hsieh et al found abnormal EEG findings and abnormal neuroimaging in three fifths of children (n=26) with HSE aged 1-6 years correlated with poorer outcomes. [54]
In a retrospective review of EEG in HSE, Al Shekhlee et al found periodic lateralized epileptiform discharges (PLEDs) (see the image below) or focal temporal slowing to be present in 90% of the PCR-positive group (PCR testing for the herpes virus from spinal fluid being the most sensitive and specific test for the diagnosis of HSE) at symptom onset as compared with 30% of the PCR-negative group. [55]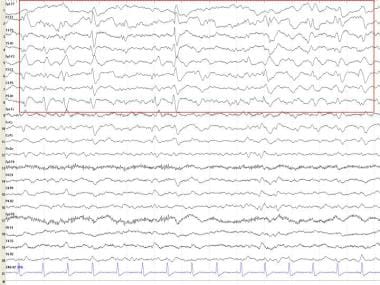 Periodic lateralized epileptiform discharges.
The investigators found that the sensitivity of the EEG recording for these focal and epileptiform findings decreases after 48 hours. The MRI results were consistent with HSE in 86% of those with HSE-positive PCR results obtained 48 hours from symptom onset. They found the EEG to be of important diagnostic use when obtained within the first 24-48 hours of HSE symptom onset. [55]
Serial EEGs usually capture PLED activity, but in the later stages of the disease course, the EEG may revert to normal.
---
Did this answer your question?
Additional feedback? (Optional)
Thank you for your feedback!