Answer
Answer
Patients with benign rolandic epilepsy are typically aged 3-10 years. They may present with a history of orobuccal numbness on one side of the mouth or with a tingling sensation on one side of the face. These seizures are associated with preserved mentation and thus are simple partial seizures. During sleep, patients may have generalized tonic-clonic convulsions.
The electroencephalographic (EEG) features of benign rolandic epilepsy include frequent spike and wave discharges in the centrotemporal region (see the image below). The electrical field of epileptiform discharges is not distributed widely. Frequently, the dipole is located tangentially, with positivity in the frontal regions. [5] The negative pole is 150–300 microvolts (µV), and the entire spike and wave complex lasts for 80–120 milliseconds. Characteristically, the spike is triphasic and blends into the after-coming slow wave.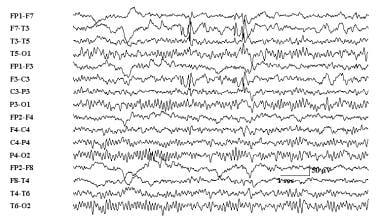 Benign rolandic epilepsy associated with typical centrotemporal electroencephalographic spikes.
Commonly, epileptiform discharges occur in runs, and they may be bilateral in 30% of patients; when they occur bilaterally, the discharges are independent and asynchronous. Unilateral discharges are more common. Activating movements or eye opening does not block the discharges. Sleep, however, has a prominent activation on the epileptiform discharges (see the following image). Non–rapid eye movement (REM) sleep, in particular, may show a 400–500% increase in the spike-wave index. Over time, the epileptiform discharges decrease, and they finally disappear around age 15 years. At times, the EEG, in addition to displaying centrotemporal spikes, can show generalized or multifocal spike wave discharges. [6]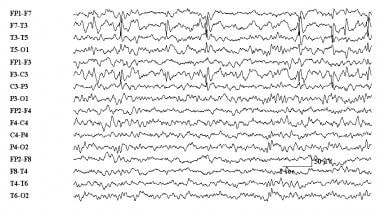 Electroencephalogram demonstrating benign rolandic epilepsy. Note the characteristic spike and waves seen in drowsiness.
Benign rolandic epilepsy appears to be a dominantly inherited condition with variable penetrance. [5] This condition is a syndromic diagnosis, with the EEG forming an important component of the diagnosis. However, epileptiform discharges in the rolandic region do not necessarily mean that the patient has benign rolandic epilepsy.
---
Did this answer your question?
Additional feedback? (Optional)
Thank you for your feedback!