Answer
Answer
Childhood absence epilepsy (CAE) presents between ages 3 and 5 years and usually remits by ages 10–12 years. Unlike juvenile absence epilepsy, childhood absence epilepsy is usually not associated with tonic-clonic seizures. Electroencephalography (EEG) shows a normal background for age and 3-Hz generalized spike and wave discharges (see the following image).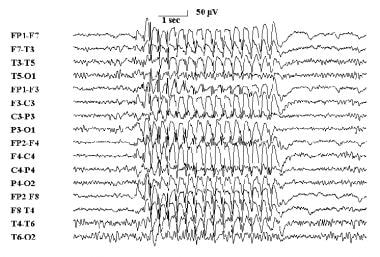 Typical 3-Hz electroencephalographic spike and wave discharges seen in absence epilepsy.
The frequency of the spike-wave complexes is usually 4 Hz at the onset of the absence seizures and may slow to 2.5 Hz at the end of a seizure. [4] Typically, an initial positive component is followed by one or more negative components and then a negative slow wave. They are frontally dominant (see the image below). The duration of the discharges is typically 3–25 seconds.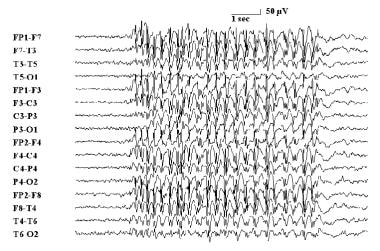 Electroencephalogram demonstrating absence epilepsy. Anteriorly dominant, typical 3-Hz spike and wave discharges.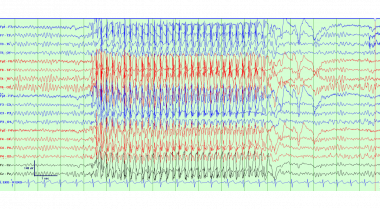 Typical absence seizure with 3-4 Hz rhythmic generalized spike and wave discharges with abrupt onset and end.
The discharges are not truly bisynchronous; usually a millisecond difference is noted between the left and right cerebral hemispheres. Eye opening does not alter the discharges. However, the discharges are state dependent; their frequency increases with non–rapid eye movement (REM) sleep, although the duration of the discharges is reduced. During REM sleep, the frequency of discharges resembles that seen in wakefulness. Some patients display occipital intermittent rhythmic delta discharges (OIRDA), which is thought to be a favorable prognostic indicator.
Generalized discharges in childhood absence epilepsy are ictal in nature. They may be so brief that no obvious clinical movements are seen, although typically minor eyelid fluttering or subtle, rhythmic contractions of the mouth are seen. These minor motor accompaniments occur in 85% of patients with absence epilepsy.
---
Did this answer your question?
Additional feedback? (Optional)
Thank you for your feedback!