Answer
Answer
West syndrome is a triad of infantile spasms, developmental retardation or regression, and hypsarrhythmia on electroencephalogram (EEG). The syndrome presents in infants aged between 6 and 18 months.
The presence of a hypsarrhythmic EEG confirms the diagnosis of infantile spasms (see the following image). EEG patterns may evolve over a time period; they initially appear in the sleep EEG record and subsequently present during the awake state. Hypsarrhythmia is seen in 75% of patients with West syndrome.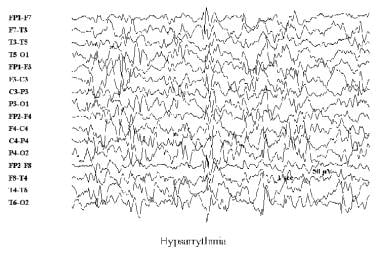 Electroencephalogram demonstrating hypsarrhythmia in infantile spasms. Note the chaotic high-amplitude background.
Hypsarrhythmia consists of diffuse giant waves (high voltage, >400 microvolts [µV]) with a chaotic background of irregular, multifocal spikes and sharp waves and very little synchrony between the cerebral hemispheres. During sleep, the EEG may display bursts of synchronous polyspikes and waves. A pseudoperiodic pattern may be evident. Persistent slowing or epileptiform discharges in the hypsarrhythmic background may be present and may represent an area of focal dysfunction. Several variations to the hypsarrhythmic pattern, which are referred to as hypsarrhythmic variants, may be noted.
Clinical spasms are associated with a marked suppression of the background that lasts for the duration of the spasm. This characteristic response is called the electrodecremental response (see the image below).
Electroencephalogram demonstrating hypsarrhythmia. Note the electrodecremental response that is associated with a spasm in infantile spasms (ie, West syndrome).
EEG is useful in judging successful treatment of West syndrome. Typically, shortly after treatment with adrenocorticotropic hormone (ACTH) or vigabatrin is initiated, the spasms stop and hypsarrhythmia disappears.
Hypsarrhythmia rarely persists beyond the age of 24 months. It may evolve into the slow spike and wave discharges seen in Lennox-Gastaut syndrome.
---
Did this answer your question?
Additional feedback? (Optional)
Thank you for your feedback!