Answer
The use of sequential CT scanning is important. Although each patient must be treated individually, patients who have small acute SDHs thinner than 5 mm on axial computed tomography (CT) images without sufficient mass effect to cause midline shift or neurological signs have been observed clinically, with acceptable results (see the image below).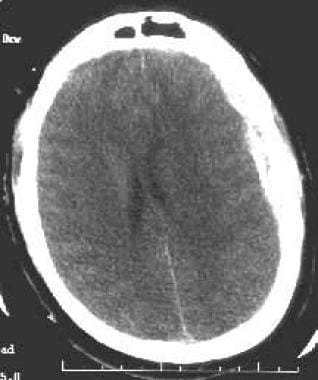 A left-sided acute subdural hematoma (SDH). Note the high signal density of acute blood and the (mild) midline shift of the ventricles.
Hematoma resolution should be documented with serial imaging because an acute subdural hematoma that is treated conservatively can evolve into a chronic hematoma. For serial imaging, magnetic resonance imaging (MRI) may be more sensitive, but CT may be more convenient and less expensive.
---
Did this answer your question?
Additional feedback? (Optional)
Thank you for your feedback!