Answer
In the chronic phase, the lesion becomes hypodense and is easy to appreciate on a noncontrast head CT scan. About 20% of chronic subdural hematomas are bilateral, however, and this may prevent midline shift, thereby making the subdural hematoma harder to detect. See the image below. Despite this caveat, CT scan still supersedes MRI because of its reliability, shorter study time, and lower cost.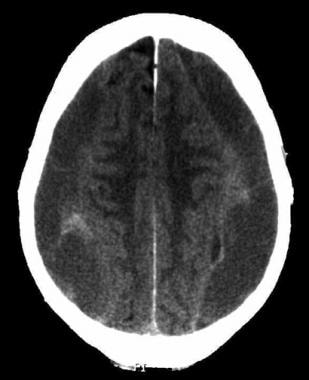 Bilateral chronic subdural hematomas shown on CT scan. Midline shift is absent because of bilateral mass effect. Subdural hematoma is bilateral in 20% of patients with chronic subdural hematoma.
Often, a chronic subdural hematoma appears as a heterogeneously dense lesion indicative of recurrent bleeding with a fluid level between the acute (hyperdense) and chronic (hypodense) components of the hematoma (see the image below).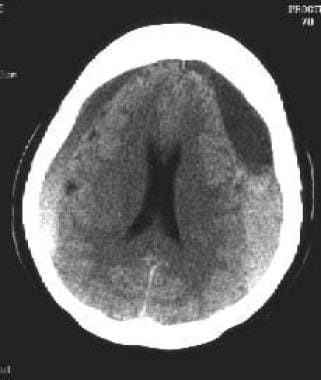 Chronic subdural hematomas (SDHs) are commonly bilateral and have areas of acute bleeding, which result in heterogeneous densities. Note the lack of midline shift due to the presence of bilateral hematomas.
On a contrast-enhanced CT scan, the chronic subdural hematoma membrane enhances to varying degrees, depending on numerous factors. Sometimes, a contrast-enhanced scan shows evidence of an underlying cause, such as a tumor or vascular lesion (eg, in patients with acute but nontraumatic subdural hematoma).
Although the distinction between subacute and chronic is an arbitrary one, it can be important. Chronic subdural hematomas have a liquid consistency, typically resembling crankcase oil, and can be drained through burr holes. The consistency of subacute subdural hematomas might be too thick for burr-hole drainage and might require craniotomy.
---
Did this answer your question?
Additional feedback? (Optional)
Thank you for your feedback!