Answer
In the second and third weeks (the subacute phase), subdural hematomas become isodense (with respect to the brain) and more difficult to appreciate on a noncontrast head CT scan (see the images below). Also, subacute subdural hematomas often become lens-shaped and can be confused with an epidural hematoma.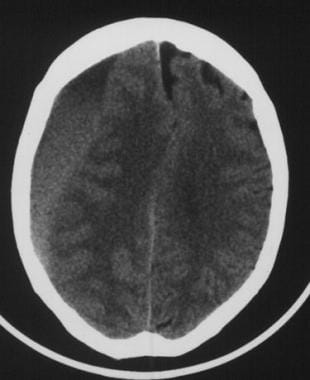 Subacute subdural hematoma. The crescent-shaped clot is less white than on CT scan of acute subdural hematoma. In spite of the large clot volume, this patient was awake and ambulatory. Image courtesy of J. Stephen Huff, MD.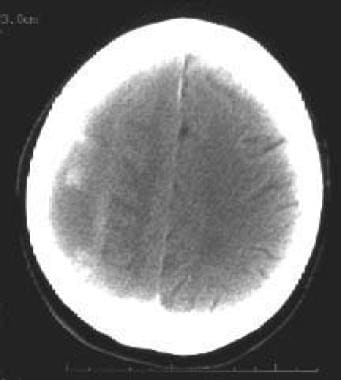 An isodense subdural hematoma (SDH). Note that no sulcal markings are below the inner table of the skull on the right side. This hematoma has scattered areas of hyperdense, or acute, blood within it.
For this reason, either contrast-enhanced CT or MRI should be considered for imaging 48-72 hours after head injury. On contrast-enhanced CT scans, cortical veins over the cerebral surface are opacified and help delineate the lesion. On T1-weighted MR images, subacute lesions are hyperdense.
---
Did this answer your question?
Additional feedback? (Optional)
Thank you for your feedback!