Answer
On noncontrast CT scan, an acute subdural hematoma appears as a hyperdense (white), crescent-shaped mass between the inner table of the skull and the surface of the cerebral hemisphere (see the images below). Subdural hematomas are concave toward the brain and unlimited by suture lines, as opposed to epidural hematomas, which are convex toward the brain and restricted by suture lines. Rarely, a subdural hematoma appears lens shaped (ie, more like an epidural hematoma). Acute subdural hematomas are usually unilateral.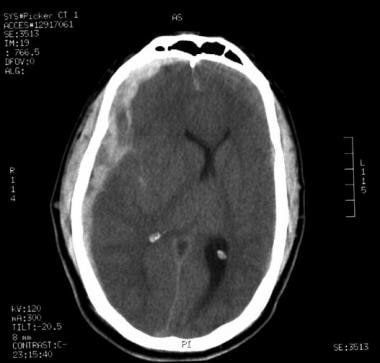 Acute right-sided subdural hematoma associated with significant midline shift (ie, subfalcine herniation) shown on CT scan.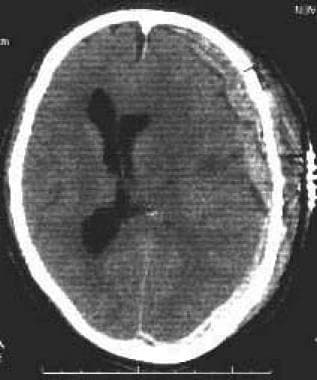 An acute subdural hematoma (SDH) as a complication of a craniotomy. Note the significant mass effect with midline shift.
---
Did this answer your question?
Additional feedback? (Optional)
Thank you for your feedback!