Answer
Communicating hydrocephalus occurs when full communication occurs between the ventricles and subarachnoid space. It is caused by overproduction of CSF (rarely), defective absorption of CSF (most often, includes conditions such as intracranial hemorrhage or meningitis resulting in damage to the arachnoid granulations, where CSF is reabsorbed), or venous drainage insufficiency (occasionally). See the image below.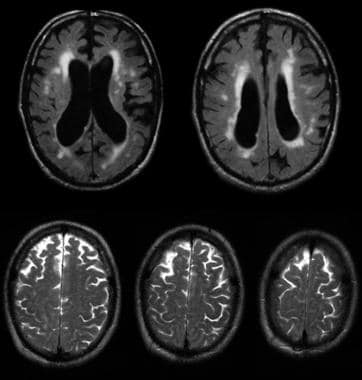 Communicating hydrocephalus with surrounding "atrophy" and increased periventricular and deep white matter signal on fluid-attenuated inversion recovery (FLAIR) sequences. Note that apical cuts (lower row) do not show enlargement of the sulci, as is expected in generalized atrophy. Pathological evaluation of this brain demonstrated hydrocephalus with no microvascular pathology corresponding with the signal abnormality (which likely reflects transependymal exudate) and normal brain weight (indicating that the sulci enlargement was due to increased subarachnoid cerebrospinal fluid [CSF] conveying a pseudoatrophic brain pattern).
---
Did this answer your question?
Additional feedback? (Optional)
Thank you for your feedback!