Answer
Answer
Various pathologic findings have been reported in patients with primary progressive aphasia (PPA) and frontotemporal lobe dementia (FTD). The central theme of these reports is that these syndromes have a non-Alzheimer pathology. (See the image below.)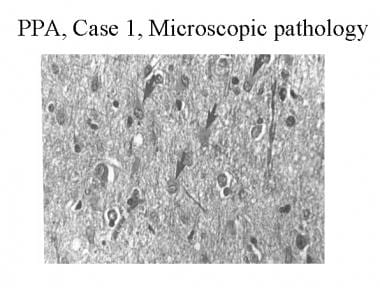 Hematoxylin and eosin stain of the left frontal cortex from a patient with primary progressive aphasia. This shows loss of neurons, plump astrocytes (arrow), and microvacuolation of the superficial cortical layers. Reproduced with permission of John Wiley & Sons, Inc.
Considering first the cases of PPA, Pick disease was the first pathologic disease associated with this syndrome. This was reported with a description of the language syndrome in 1892. The neuropathologic features of Pick disease are focal, lobar atrophy of the frontal and/or temporal lobes of 1 or both hemispheres, prominent gliosis associated with swollen neurons, and/or argentophilic inclusions (Pick bodies).
In the current era, several groups have reported cases of pathologically proven Pick disease. Holland et al, [77] Wechsler et al, [78] and Graff-Radford et al [79] have reported patients with pathologically proven Pick disease and progressive language deterioration. All patients described in these reports had slowly progressive language symptoms, with naming involved early. In all cases, enough cognitive functions were spared initially to make the disorder easily distinguishable from typical Alzheimer disease.
Many reported cases do not have Pick bodies but have the less specific findings of lobar atrophy, neuronal loss, gliosis, and microvacuolization. These cases were previously referred to as "dementia without specific histological features," but this term was used before the newer histologic stains for tau and ubiquitin proteins entered routine use. This nonspecific pattern of neuronal loss, gliosis, and microvacuolization was reported in 2 cases as a pathologic underpinning of PPA. [19] Similar changes have also been reported by Morris et al [22] under the term "hereditary dysphasic dementia" and by Neary, Snowden, and colleagues under the term frontal lobe dementia. [8]
As previously noted, most non-Alzheimer disease pathologies can be divided into those with positive staining for tau proteins, including those linked to chromosome 17, and frontotemporal lobar degeneration with ubiquitin staining (FTLD-U), due to progranulin or C9ORF72 mutations, leaving only rare cases with truly nonspecific pathology. [18]
Among the tau-positive patients, some develop symptoms and show pathologic criteria for corticobasal degeneration and others show overlap with the progressive supranuclear palsy (PSP) pathology.
---
Did this answer your question?
Additional feedback? (Optional)
Thank you for your feedback!