Answer
Answer
Functional imaging techniques, particularly single-photon emission computed tomography (SPECT) and positron emission tomography (PET) scanning, detect focal lobar hypometabolism or hypoperfusion with great sensitivity. (See the image below.). [75]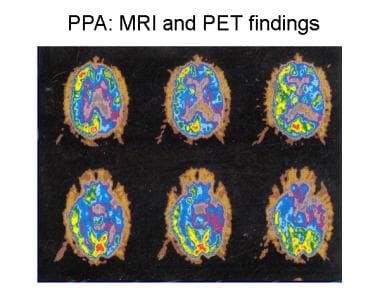 Patient with progressive nonfluent aphasia. Positron emission tomography (PET) scan indicating hypometabolism of glucose in the left hemisphere. Reprinted from Neurology in Clinical Practice, 4th ed. Kirshner H. Language and Speech Disorders. Copyright 2004, with permission from Elsevier.
The Hammersmith PET facility in London published early studies by Tyrell et al demonstrating that left temporal hypometabolism was observed in virtually all early cases of primary progressive aphasia (PPA). [76] More advanced cases also showed hypometabolism in the left frontal lobe and, occasionally, a lesser degree of hypometabolism in the right hemisphere.
These patterns of cortical involvement have been confirmed in many subsequent studies. The pattern of frontal and/or temporal involvement is distinct from that of Alzheimer disease, in which both parietal lobes tend to show the earliest hypometabolism.
New ligands used to bind to amyloid protein deposits (eg, Pittsburgh Compound B, or the recently approved florbetapir [Amyvid]) are helpful in the diagnosis of Alzheimer disease but not of FTD. These agents are approved by the FDA for safety but are not covered by Medicare or most private insurance policies.
---
Did this answer your question?
Additional feedback? (Optional)
Thank you for your feedback!