Answer
Answer
Routine brain imaging with computed tomography (CT) scanning or MRI is usually remarkable only for cerebral atrophy. Some patients show impressive localized atrophy in the frontal or temporal lobe on 1 or both sides. (See the image below.). [74]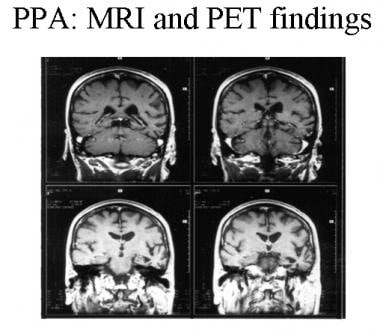 Patient with progressive nonfluent aphasia. MRI showing focal, left temporal atrophy. Reprinted from Neurology in Clinical Practice, 4th ed. Kirshner H. Language and Speech Disorders. Copyright 2004, with permission from Elsevier.
On MRI, temporal lobe atrophy is especially easy to detect in the coronal projections. Cases differ as to the relative degree of atrophy in the frontal or temporal lobe and on the left versus right side. Research studies using voxel-based morphometry have provided more precise maps of the areas of focal atrophy.
Patients with frontal lobe neurobehavioral disorders (behavioral variant frontotemporal lobe dementia) often have bilateral frontal atrophy, especially involving the medial frontal cortex, sometimes with anterior temporal lobe atrophy as well.
Whitwell et al reported in 2006 that cases associated with motor neuron disease have more paracentral atrophy by voxel-based morphometry on MRI. [65]
Patients with PNFA tend to have perisylvian, left hemisphere atrophy, involving the frontal lobe and insula, sometimes extending into the temporal lobe.
Patients with semantic dementia typically have temporal lobe atrophy, often involving the anterior temporal lobes bilaterally. Patients with logopenic progressive aphasia often have bilateral superior temporal and inferior parietal atrophy. Patients with the related tauopathy progressive supranuclear palsy have midbrain tegmentum and superior cerebellar peduncle atrophy, and those with corticobasal degeneration have frontoparietal atrophy.
---
Did this answer your question?
Additional feedback? (Optional)
Thank you for your feedback!