Answer
Answer
The presentation of degenerative disease in focal areas of the cerebral cortex is the hallmark of the family of diseases referred to as frontotemporal dementia (also termed frontotemporal lobar degeneration). Cases of elderly patients with progressive language deterioration have been described since Arnold Pick's landmark case report of 1892. His case study "On the relationship between aphasia and senile atrophy of the brain "still serves as a frame of reference for apparently focal brain syndromes in diffuse or generalized degenerative diseases of the brain. [1] As Pick stated, "simple progressive brain atrophy can lead to symptoms of local disturbance through local accentuation of the diffuse process."
In the 1980s and 1990s, 2 parallel streams of information accumulated related to focal brain degenerations. In 1982, Mesulam reported 6 patients with progressive aphasia, gradually worsening over a number of years, who did not develop a more generalized dementia. [2] Since Mesulam's publication, numerous other cases have been reported, and Mesulam's group has contributed additional reviews. [3, 4] This disorder, which is currently termed primary progressive aphasia (PPA), has gained acceptance as a syndrome.
Subsequently, the PPA syndrome was defined as a disorder limited to progressive aphasia, without general cognitive impairment or dementia, over a 2-year period. [3] Many patients develop more generalized dementia later in the course of the illness, as reported by Kirshner et al. [5] Less commonly, cases of isolated right frontal or temporal degeneration have been reported. [6, 7] These patients experience failure to recognize family members (prosopagnosia), failure to remember topographic relationships, and similar disorders. (See the image below.)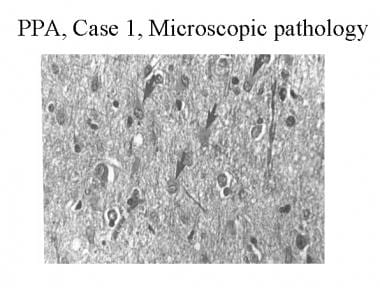 Hematoxylin and eosin stain of the left frontal cortex from a patient with primary progressive aphasia. This shows loss of neurons, plump astrocytes (arrow), and microvacuolation of the superficial cortical layers. Reproduced with permission of John Wiley & Sons, Inc.
---
Did this answer your question?
Additional feedback? (Optional)
Thank you for your feedback!