Answer
Canities
Graying of hair occurs with various conditions as well as naturally with aging.
Prurigo (prurigo nodularis)
Prurigo nodularis appears as a heaped keratotic inflammatory nodule on the extensor surfaces of the arms, legs, and trunk. Lesions are pruritic, and patients find themselves incessantly picking them with their fingers and nails.
Note the images below:
Lichen planus
See primary dermatologic disorders for symptoms of LP.
Sialadenitis
Symptoms are the same as those of sicca syndrome.
Thyroiditis
Symptoms are manifested according to the stage of autoimmune thyroiditis.
Vitiligo
Symptoms are the same as those discussed in Canities, in the Physical section. Note the image below: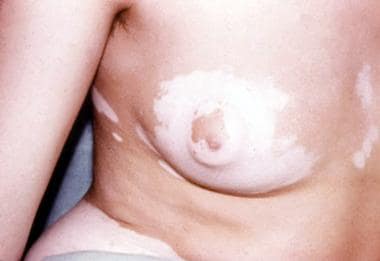 Vitiligo. Courtesy of Walter Reed Army Medical Center Dermatology.
---
Did this answer your question?
Additional feedback? (Optional)
Thank you for your feedback!