Answer
Secondary dermatologic disorders of chronic hepatitis C resulting from perturbations of the immune system
Cryoglobulinemia
Leukocytoclastic vasculitis occurs with type II mixed cryoglobulinemia in the skin and mucous membranes. Leukocytoclastic vasculitis also occurs with necrotizing small vessel vasculitis of the skin, kidneys, joints, and eyes. Disorders of this type belong to a group termed mixed cryoglobulinemia syndrome. These disorders display palpable purpura of the legs (which is worse distally and inferiorly), livido reticularis, ulcerations, urticaria, symmetric polyarthritis, myalgias, cutis marmorata, and fatigue. The symptomatology is pruritus, pain, or Raynaud phenomenon resulting from vasculitic sludging in the postcapillary venules of immunologic material.
In all cases of cryoglobulinemia, an inflammatory reaction occurs with an influx of polymorphonuclear cells. Variable vascular damage and occlusion results in worsening degrees of pathology and symptoms; such pathology includes livido vasculitis with perturbation of superficial and deep vascular reflexes and mottling blue changes of the skin (cutis marmorata); pruritus; painful ulcerations of significant size resulting from arteriolar occlusion; and through-and-through necrosis of epidermis, dermis, and fat. Significantly, HCV localized to the intravascular debris and recently to the vessel wall establishes specificity to these reactions. Perhaps the clinical variability of vasculitic reactions is related to the degree of specificity of the vasculitis.
Urticarial vasculitis with HCV infection presents with painful urticarial blanching plaques of the limbs and chest that fade to residual hyperpigmented areas. [59] The 2 cases presented lacked cryoglobulins. Complete disappearance of arthralgias and skin and liver disease occurred with clearance of HCV infection, suggesting that urticarial vasculitis may result from HCV immune complex disease.
Note the images below: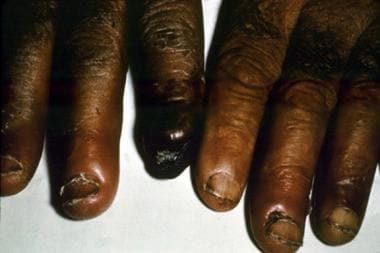 Cold agglutinin disease indistinguishable from cryoglobulinemia. Courtesy of Walter Reed Army Medical Center Dermatology.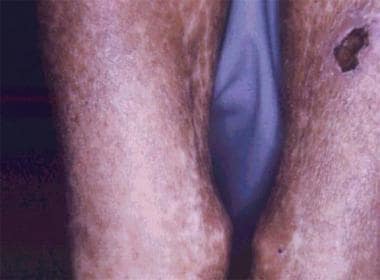 Cryoglobulinemia, palpable purpura, dysproteinemic purpura, and leukocytoclastic vasculitis (small vessel vasculitis). Courtesy of Walter Reed Army Medical Center Dermatology.
---
Did this answer your question?
Additional feedback? (Optional)
Thank you for your feedback!