Answer
Answer
Generalized dry skin syndrome is frequently observed in patients with HIV infection. Xerosis may be the initial clinical manifestation of AIDS and is often a cause of pruritus. In the United States, pruritus has been reported in 4.5% of patients with AIDS.
Seborrheic dermatitis may be the initial cutaneous manifestation of HIV disease. According to Mathes et al, seborrheic dermatitislike eruptions are observed in 83% of patients with AIDS. [45] The eruption, which is characterized by widespread inflammatory and hyperkeratotic lesions, may progress to erythroderma in some patients. Seborrheic dermatitis may be increased in patients with AIDS-associated dementia or CNS disease.
The immune alterations caused by HIV infection may lead to psoriasis and Reiter syndrome. In some instances, preexisting psoriasis may become more severe with disseminated plaques and pustules.
The typical skin lesions of pityriasis rosea may accompany HIV disease.
Acquired ichthyosis may begin on the lower extremities and disseminate in advanced HIV disease. Acquired ichthyosis may be a marker of concomitant infection with HIV-1 and human lymphotropic virus II in persons who use intravenous drugs and have profound helper T-cell depletion. [46]
Eosinophilic folliculitis manifests as an idiopathic, highly pruritic, papulopustular eruption of sterile pustules involving the face, neck, trunk, and extremities.
Pruritic papular eruption (PPE) is a common cutaneous manifestation in patients infected with HIV. It manifests as small, itchy, red or skin-colored papules on the head, neck, and upper part of the trunk. The cause is not known. According to Boonchai et al, 81.25% of patients with PPE have advanced immunosuppression. [47] (See the image below.)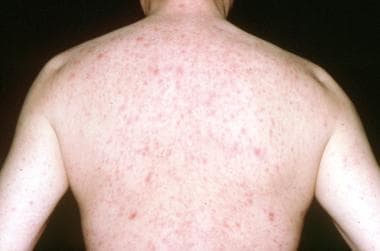 Dull red, violaceous, maculopapular lesions on the upper part of the trunk in a 49-year-old man with primary HIV-1 infection.
---
Did this answer your question?
Additional feedback? (Optional)
Thank you for your feedback!