Answer
Answer
The molluscum contagiosum (MC) virus is a DNA virus in the Poxviridae family. It replicates in the cytoplasm of epidermal cells. MC lesions are small papules with central umbilication (see the images below).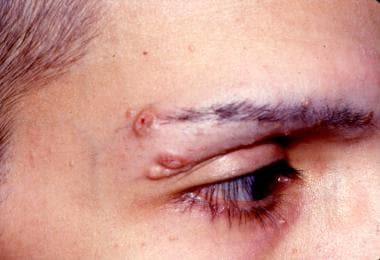 Young man with HIV disease and molluscum contagiosum on the lateral part of the eyebrow.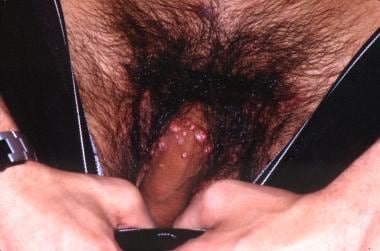 Molluscum contagiosum on the penile shaft in a patient with HIV disease.
In HIV infection, MC may be widespread and atypical. The lesions may be observed on unusual sites, such as the face, neck, and scalp, and the lesions may be of unusual morphology and size. [30] Such unusual forms include solitary, endophytic, aggregated, inflamed, and giant MCs. MCs mimicking sebaceous nevus of Jadassohn, ecthyma, and giant condylomata acuminata have been reported.
---
Did this answer your question?
Additional feedback? (Optional)
Thank you for your feedback!