Answer
Answer
KS is an abnormally vascularized tumorlike lesion affecting skin, lymph nodes, and viscera. It is believed to be a proliferation of endothelial cells induced by human herpesvirus type 8. KS is promoted by various angiogenic and proinflammatory factors, including HIV-Tat. In addition, the latency-associated nuclear antigen type 1 (LANA-1) protein is highly expressed in spindle cells, which is considered important in the maintenance of human herpesvirus type 8–associated malignancies.
KS begins as pink macules that become disseminated and palpable. Purplish or brown macules and plaques may become nodular (see the images below). Mucosal involvement is common. KS demonstrates more aggressive clinical progression in patients infected with HIV than in other populations with the disease.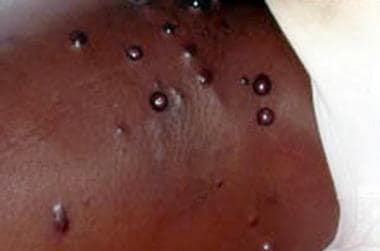 Kaposi sarcoma in a man with HIV infection.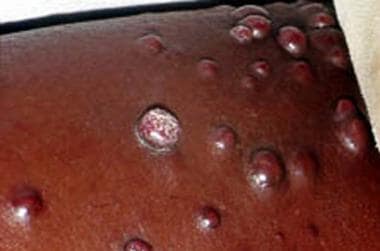 Kaposi sarcoma in a man with HIV infection.
---
Did this answer your question?
Additional feedback? (Optional)
Thank you for your feedback!