Answer
Roseola is a common childhood disease. The cause is primary infection with human herpesvirus 6 (HHV-6). The classic presentation of roseola infantum is a 9- to 12-month-old infant who acutely develops a high fever and often a febrile seizure. After 3 days, a rapid defervescence occurs, and a morbilliform rash appears (see the image below).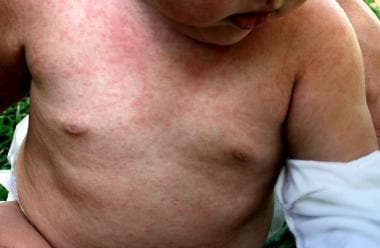 Roseola infantum. Image courtesy of Wikimedia Commons.
Like other herpes viruses, HHV-6 then remains latent in most patients who are immunocompetent. Although clinical disease is uncommon in patients who are immunocompetent, HHV-6 is a major cause of morbidity and mortality in patients who are immunosuppressed, particularly in patients with AIDS and in those who are transplant recipients (eg, liver transplantation [1, 2] ).
---
Did this answer your question?
Additional feedback? (Optional)
Thank you for your feedback!