Answer
Answer
Typical sarcoid lesions are characterized as "naked," noncaseating granulomas. Granulomas are referred to as naked because they only have a sparse lymphocytic infiltrate at the margins of granulomas. The granulomas are generally circumscribed and composed of epithelioid cells with little or no necrosis. Fibrosis, if present, usually starts at the periphery and advances toward the center. Granulomas are usually in the superficial dermis, but they may involve the thickness of the dermis and extend to the subcutaneous tissue. (See the image below.)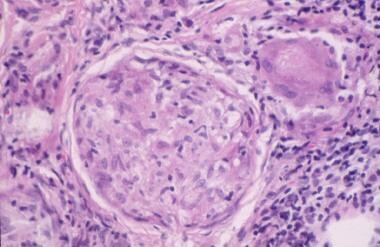 Histopathologic features of sarcoidosis showing the hallmark noncaseating granulomas.
Islands of epithelioid cells may contain a few Langhans giant cells. Giant cells may contain asteroid or Schaumann bodies. Asteroid bodies are star-shaped eosinophilic structures. Schaumann bodies are round or oval, laminated structures that are usually calcified at the periphery.
---
Did this answer your question?
Additional feedback? (Optional)
Thank you for your feedback!