Answer
Answer
Infiltration of scars may occur (see the image below). Scars from previous trauma, surgery, venipuncture, or tattoo may become infiltrated and show a red or purple color. These lesions may be tender.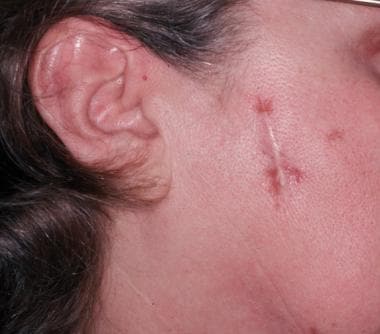 Sarcoidosis with infiltration of a scar.
The development of sarcoidal lesions within tattoos has been well documented, although hypersensitivity granulomatous reactions to tattoo pigment need to considered in the differential diagnosis and should be considered in the context of the overall clinical presentation of the sarcoid patient. Specific tattoo pigment colors may be targeted more than others, even within the same patient with a multicolored tattoo. [13]
---
Did this answer your question?
Additional feedback? (Optional)
Thank you for your feedback!