Answer
Answer
Plaque sarcoidosis is characterized by round to oval, red-brown to purple, infiltrated plaques; the center of the plaque may be atrophic (see the image below). Some plaques may even appear scaly and can be confused with lesions of psoriasis or lichen planus. Dermoscopy may aid in the clinical diagnosis, as noted above.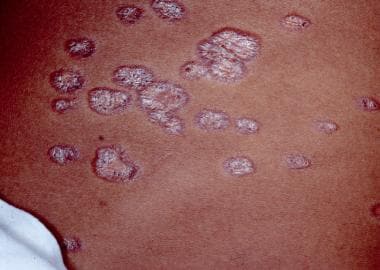 Plaque sarcoidosis.
The lesions most commonly occur on the extremities, face, scalp, back, and buttocks, and they may have an annular appearance (see the image below). The distribution is usually symmetrical. Angiolupoid sarcoidosis is a subtype that has a similar appearance but has large, telangiectatic vessels in addition to the characteristics mentioned above. This form of cutaneous involvement is usually chronic; most patients have the disease for more than 2 years. Lesions can heal with scarring, and, if plaques involve the scalp, they may lead to alopecia. Patients with plaque lesions usually have more severe systemic involvement.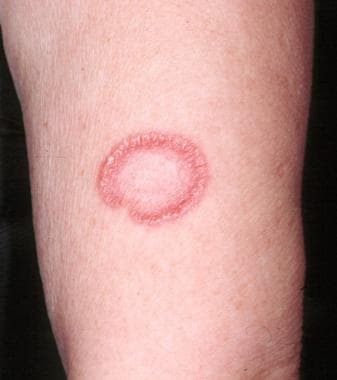 Annular sarcoidosis.
---
Did this answer your question?
Additional feedback? (Optional)
Thank you for your feedback!