Answer
Answer
Macular or papular sarcoidosis is the most common lesion seen in cutaneous sarcoidosis, especially in black women. Granulomatous acne rosacea may mimic sarcoidosis clinically and histopathologically. Usually, lesions are asymptomatic, red-brown macules and papules commonly involving the face, the periorbital areas, the nasolabial folds, and/or the extensor surfaces. Lesions usually resolve without scarring, although scarring may occur. These lesions may also occur in acute sarcoidosis. (See the image below.)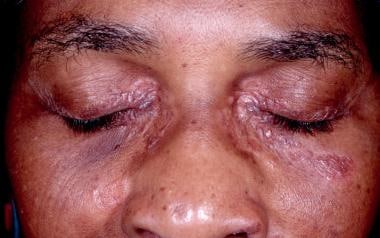 Periocular papules and plaques.
The use of dermoscopy to aid in the clinical diagnosis of macular and plaque-type sarcoidosis has been reported, with findings of "translucent yellow to orange globular-like or structureless areas associated with linear vessels" and being associated with granulomatous skin disease, including cutaneous sarcoid. [5] Widespread atrophic lesions with elastolysis have been reported, and widespread lichenoid lesions may resemble erythroderma. [6, 7]
---
Did this answer your question?
Additional feedback? (Optional)
Thank you for your feedback!