Answer
Answer
Lupus pernio, first described by Besnier in 1889, is a striking manifestation of sarcoidal skin lesions. Lupus pernio is characterized by red to purple or violaceous, indurated plaques and nodules that usually affect the nose, cheeks, ears, and lips, but it can appear on the dorsa of the hands, and on the fingers, toes, and forehead. (See the images below.)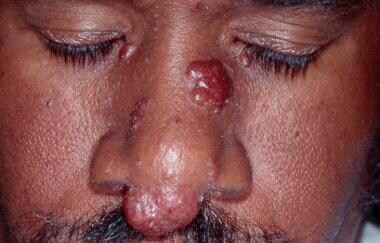 Lupus pernio with nodules on the nasal tip and sidewall.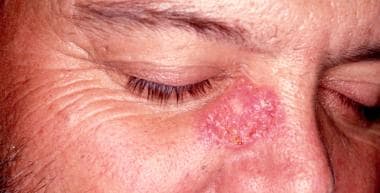 Cutaneous sarcoidosis. Violaceous papules or nodules of lupus pernio.
Lupus pernio is usually more common in black women with long-standing systemic, usually pulmonary, sarcoidosis than in other people. It is also commonly seen with chronic uveitis and bone cysts. The course is usually chronic, may be more recalcitrant to treatment, and may result in severe cosmetic disfigurement. Lupus pernio, especially involving the nasal rim, has been associated with granulomatous involvement of the upper respiratory tract (50%) and lungs (75%). Additionally, it is associated with a higher frequency of ocular involvement, bone cyst formation, and lymphadenopathy or organomegaly. [4]
---
Did this answer your question?
Additional feedback? (Optional)
Thank you for your feedback!