Answer
Answer
Cutaneous involvement is classified as either "specific" or "nonspecific". Histopathologically, specific lesions manifest as noncaseating granulomas, whereas nonspecific lesions do not reveal granulomas on histopathologic examination. Erythema nodosum (EN) (shown below) is the main nonspecific cutaneous disease. Lupus pernio, maculopapular, nodular, scar, plaque, angiolupoid, ichthyosiform, lichenoid, annular, verrucous, psoriasiform, and ulcerative lesions and subcutaneous nodules are examples of specific cutaneous disease.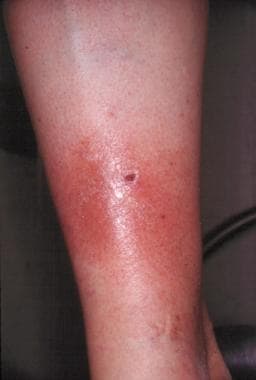 Erythema nodosum.
---
Did this answer your question?
Additional feedback? (Optional)
Thank you for your feedback!