Answer
The diagnosis of nummular eczema is made on the basis of observing the characteristic round-to-oval erythematous plaques. They are most commonly located on the extremities, particularly the legs, but they may occur anywhere on the trunk, hands, or feet. [27] Nummular eczema does not involve the face and scalp. Lesions are often symmetrically distributed. Plaques may be several centimeters.
See the image below.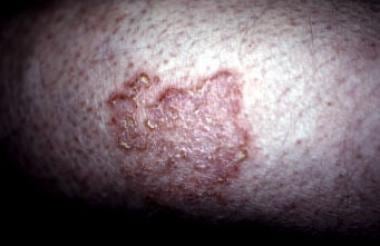 Dry, scaling plaque of nummular dermatitis (size, 3 X 5 cm) on the shin.
---
Did this answer your question?
Additional feedback? (Optional)
Thank you for your feedback!