Answer
Mucous membrane involvement is common and may be found in patients who do not have skin involvement. Lesions are most commonly found on the tongue and the buccal mucosa; they are characterized by white or gray streaks forming a linear or reticular pattern on a violaceous background (see the image below). Oral lesions are classified as reticular, plaquelike, atrophic, papular, erosive, and bullous. Ulcerated oral lesions may have a higher incidence of malignant transformation in men, but this observation may be confounded by other factors, such as smoking and chewing tobacco. Lesions may also be found on the conjunctivae, the larynx, the esophagus, the tonsils, the tympanic membrane, the bladder, the vulva, and the vaginal vault; throughout the gastrointestinal tract; and around the anus.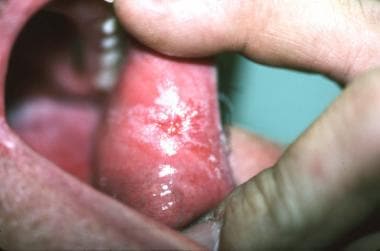 Lichen planus on the oral mucosa with ulceration in the center of the lesion appears with whitish papules and plaques in the periphery.
---
Did this answer your question?
Additional feedback? (Optional)
Thank you for your feedback!