Answer
Erythema dyschromicum perstans has a slow onset and is unlikely to resolve spontaneously. [15] The clinical course of childhood (prepubertal) may differ from that of adults; erythema dyschromicum perstans may be more likely to resolve within 2-3 years. A proposed clinical classification has been devised, dividing ashy dermatoses from erythema dyschromicum perstans with the former lacking erythematous borders, and having a third category for simulators such as lichen planus variants, and medication-induced melanodermas. [19]
Erythema dyschromicum perstans is an asymptomatic eruption of oval, polycyclic, or irregularly shaped, gray-blue hyperpigmented macules on the trunk, the arms, the face, and the neck. It begins as ash-colored macules, sometimes with an erythematous or elevated border (see the image below). No systemic symptoms or associations exist.
Erythema dyschromicum perstans may resolve in 2-3 years in prepubertal children, but it is more likely to persist in adults. [20]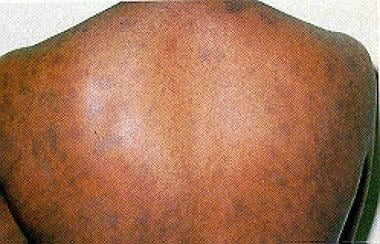 Ash-colored, partially confluent, macular lesions over the patient's back. Reprint with permission from Cutis 1986; 37: 42-44.
---
Did this answer your question?
Additional feedback? (Optional)
Thank you for your feedback!