Answer
Polymorphous light eruption (PMLE) is an acquired disease and is the most common of the idiopathic photodermatoses. First described by Ebstein in 1942 as prurigo aestivalis. PMLE is characterized by recurrent, abnormal, delayed reactions to sunlight, ranging from erythematous papules, papulovesicles, and plaques to erythema multiforme–like lesions on sunlight-exposed surfaces. Within any single patient, only one clinical form is consistently manifested. The word polymorphous in the name refers to the different morphologic presentation of the condition.
PMLE engenders a substantial psychosocial impact. In a review by Richards et al, up to 40% of patients described emotional distress related to PMLE. [1] Women associated more severe consequences linked to PMLE and were more emotionally distressed than men. Patients experience a decrease in quality of life owing to efforts to avoid sun exposure.
Management of PMLE includes strict sun protection. This can be accomplished by using broad-spectrum sunscreens, seeking shade, and wearing protective clothing, including hat wear. Photohardening is beneficial and can be used early in spring to increase tolerance to sun exposure. Topical and systemic immunosuppressants are used for symptom management. Their use should be tailored to each patient where the benefits and risks are weighted.
The possibility that a subset of PMLE called benign summer light eruption (BSLE), which might be milder and might be more ultraviolet (UV)–A driven, has been suggested by an Italian group. [2]
Note the images below.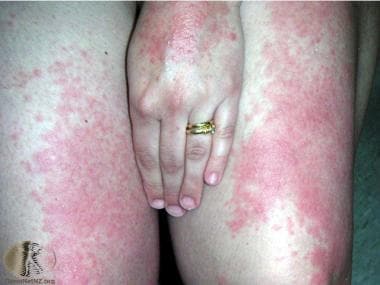 Polymorphous light eruption on the thighs and hand. Courtesy of DermNet New Zealand (http://www.dermnetnz.org/assets/Uploads/reactions/pmle2.jpg).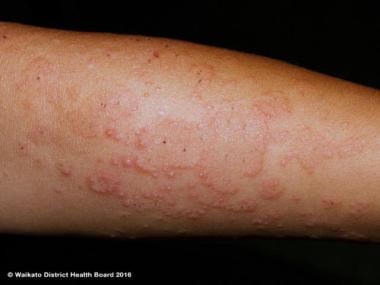 Polymorphous light eruption on the arm. Courtesy of Waikato District Health Board and DermNet New Zealand (http://www.dermnetnz.org/assets/Uploads/_resampled/FitWzY0MCw0ODBd/WatermarkedWyIyNTg0MCJd/pmle-22.JPG).
---
Did this answer your question?
Additional feedback? (Optional)
Thank you for your feedback!