Answer
In 84% of patients with linear sebaceous nevus, skin lesions are on the face, and in approximately 50%, lesions are on the scalp, the neck, and the forehead. In most patients, the lesions appear on 1 side of the body (nevus unius lateralis), as shown in the images below. Lesions on the scalp are devoid of hair.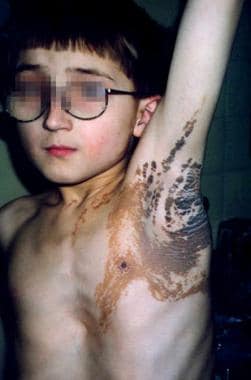 Characteristic epidermal nevus in the axillary fossa of a child with Jadassohn nevus phakomatosis.
An extensive plaque is observed over most of the left scapula, neck area, and lumbosacral location.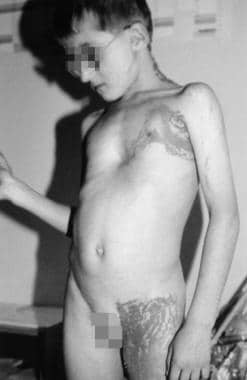 Plaque is evident in the region of the left groin, and it has a unilateral distribution.
Seizures are reported in 75% of patients with linear sebaceous nevus, mostly appearing in the first 6 months of life. The morphology of the seizures varies from infantile spasms or focal motor seizures to generalized tonic or tonic-clonic seizures. In some children, seizures are drug resistant and may result in progressive mental retardation, which is noted in approximately 70% of patients with Jadassohn nevus phacomatosis. Such regression of mental capacity is not observed in older children or adolescents.
Approximately 50% of patients demonstrate different neurologic deficits, including cranial nerve paresis (cranial nerves VI and VII), hemiparesis, or cortical blindness.
Linear sebaceous nevus syndrome is composed of multiple, well-demarcated linear, hairless plaques with evidence of neurologic or skeletal alterations, such as epilepsy or mental retardation. Skin lesions in linear sebaceous nevus syndrome are less obvious in infancy, and they are a smooth yellow-orange plaque. The nevus distribution pattern in this Schimmelpenning syndrome usually follows the lines of Blaschko. With age, these lesions become more visible, darker, verrucous, and hyperkeratotic. The last stage of development occurs in late adolescence or early adult life.
The verrucous nature of the lesions is further emphasized with cutaneous benign or malignant neoplasms noted in as many as 20-30% of patients. Trichoblastomas and syringocystadenoma papilliferum are the most likely benign neoplasms, whereas basal cell carcinoma, squamous cell carcinoma, and keratoacanthoma are the most common in the malignant category. [22] Rarely, the squamous cell carcinoma may be of the spindle cell type. [23] Trichoblastic carcinoma developing with a nevus sebaceus has been described along with seven secondary benign neoplasms. [24]
Note the images below: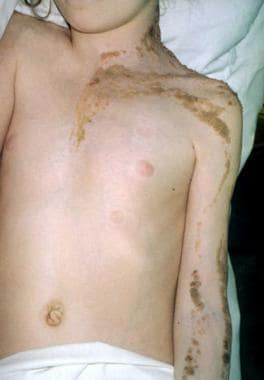 Extensive unilateral linear epidermal nevi in a 14-year-old girl with Jadassohn nevus phakomatosis. The plaques are elevated; some have verrucous characteristics.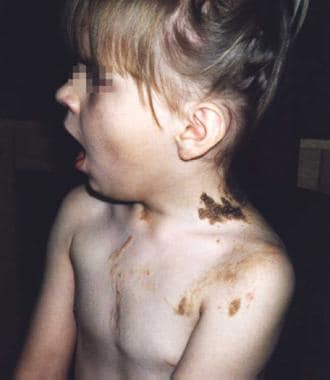 An 8-year-old girl with Jadassohn nevus syndrome. Note typical plaques in the midline and on the arm and the neck. The plaques are darker and more verrucous on the arm and the neck than on the midline.
Epidermal nevus syndrome has been described in association with a complex ocular choristoma. [25] Further experience may show whether this linkage is significant.
Linear epidermal nevus may be bilateral or distributed on most of the body. The lesions appear as asymptomatic patches or plaques, with the head and the neck, as well as the trunk, being the most common sites.
The lesions may have a somewhat verrucous appearance. They lack erythema, and they are not pruritic.
An epidermal nevus may be associated with oral involvement and cleft palate. [26]
Epidermal nevus syndrome has been described with a combination of widespread eccrine proliferation, multiple facial and oral poxlike lesions, gingival synechiae, blepharophimosis, body asymmetry, and mental retardation. This complex phenotype fits the genetic mosaicism theory. [27] An association of systematized epidermal nevus syndrome with papillary transitional cell bladder cancer has been noted too. [28]
---
Did this answer your question?
Additional feedback? (Optional)
Thank you for your feedback!