Answer
MRI and sporadically made CT scan often show evidence of nonspecific cerebellar atrophy with widened cerebellar sulci and enlargement of the fourth ventricle. According to Tavani et al, cerebellar atrophy found on MRIs progresses with age, starting from early childhood. [48] Cerebral white matter dysmyelination or demyelination, microhemorrhages and teleangiectases also are reported. [44] See image shown below.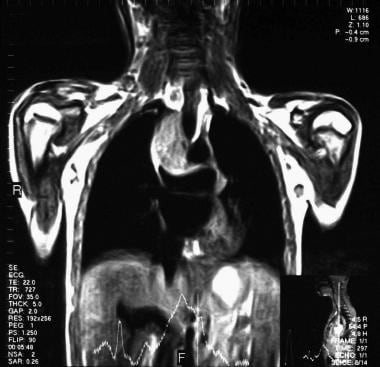 Chest MRI showing a hyperintense lesion in the right mediastinum corresponding to lymphoma.
Radiologic findings of decreased or absent adenoidal tissue in the nasopharynx on lateral skull radiographs are so typical in ataxia-telangiectasia that they are of value in confirming the diagnosis. Chest radiographs may show a small or absent thymic shadow, decreased mediastinal lymphoid tissue, and pulmonary changes similar to those seen in cystic fibrosis. Hypoplastic peripheral lymphoid tissue is such a consistent clinical finding in ataxia-telangiectasia that the appearance of lymphadenopathy or even easily palpable lymph nodes has been highly suggestive of lymphoma.
---
Did this answer your question?
Additional feedback? (Optional)
Thank you for your feedback!